One of West Alabama Animal Clinic's main goals is to help your pet feel better, faster, which is why we have introduced Companion Laser Therapy treatments into our clinic protocols.
How does pet laser therapy work?
Companion Laser Therapy uses a beam of laser light to deeply penetrate tissue without damaging it. Laser energy induces a biological response in the cells which leads to reduced pain, reduced inflammation, and increased speed of healing. This state-of-the-art laser has been designed, engineered, and tested in full compliance with US FDA laser safety requirements.
The laser light is delivered through a noninvasive handpiece to treat the affected area. This is a completely pain-free process and most treatments take only a few minutes to complete.
Laser Therapy has been scientifically proven to be successful in treating many acute and chronic conditions including:
Allergies
Cuts/Bites
Infections
Inflammation
Post Surgical Healing and Pain Relief
Sprains/Strains/Fractures
Tooth Extraction Pain Relief
Wounds
Arthritis
Degenerative Joint Disease
Feline Acne
Geriatric Care
Hip Dysplasia
Inflammatory Bowel Disease
Lick Granulomas
Tendonitis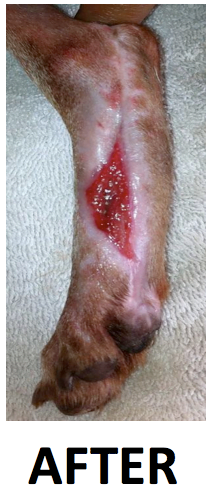 The dog shown in these before & after photos presented with wounds associated with being hit by a car. The wound was treated ONCE on Monday with Companion Laser Therapy. After image shows new tissue growth four days later.
*Treatment protocols are unique to each patient and condition. Acute conditions may resolve within one or two treatments. For chronic conditions, we recommend six treatments on a weaning schedule with follow-up treatments as needed. Your pet's veterinarian will recommend the right treatment protocol for your pet.
Please call or text today and ask for Kevin, our certified laser therapy technician. He'll be happy to answer any questions you might have about Companion Laser Therapy Treatments! 713-528-0818